Transformation is a key strategy to establishing ITB as a world-class university. One aspect of ITB's transformation by 2025 is the realization of ITB Enterprises, as stated in the ITB strategic plan, through the strengthening of local-global strategic partnerships and the commercialization of research to enhance national industries.
Business Visioning is a critical part of the transformation process required to create a business ecosystem capable of achieving the desired outcome and establishing a clear roadmap for allocating resources and conducting business operations. To help align this vision, BPUDL hosted a talk show entitled "Business Visioning of Commercial Business Units in Supporting ITB's Autonomy" on Saturday (27/11/2021) at The Sheraton Bandung Hotel.
The event was presented into 3 sessions and was opened by the Chair of Majelis Wali Amanat (MWA), Yani Panigoro. The meeting was attended by stakeholders who play significant role in the development of the business ecosystem at ITB, including representatives of the Academic Senate, the Rector and Vice Rectors, Deans of School/Faculty and the Directors of Business Unit.
The first session was opened by a video message from Darwin Cyril Noerhadi, member of Supervisory Board of Sovereign Wealth Fund (SWF) as well as BPUDL's advisory board. Cyril said that BPUDL through their initiatives must assist ITB in achieving self-sufficiency, starting with regulatory and governance, which is the primary driver of the other three initiatives, expertise, digitalization, and ecosystems.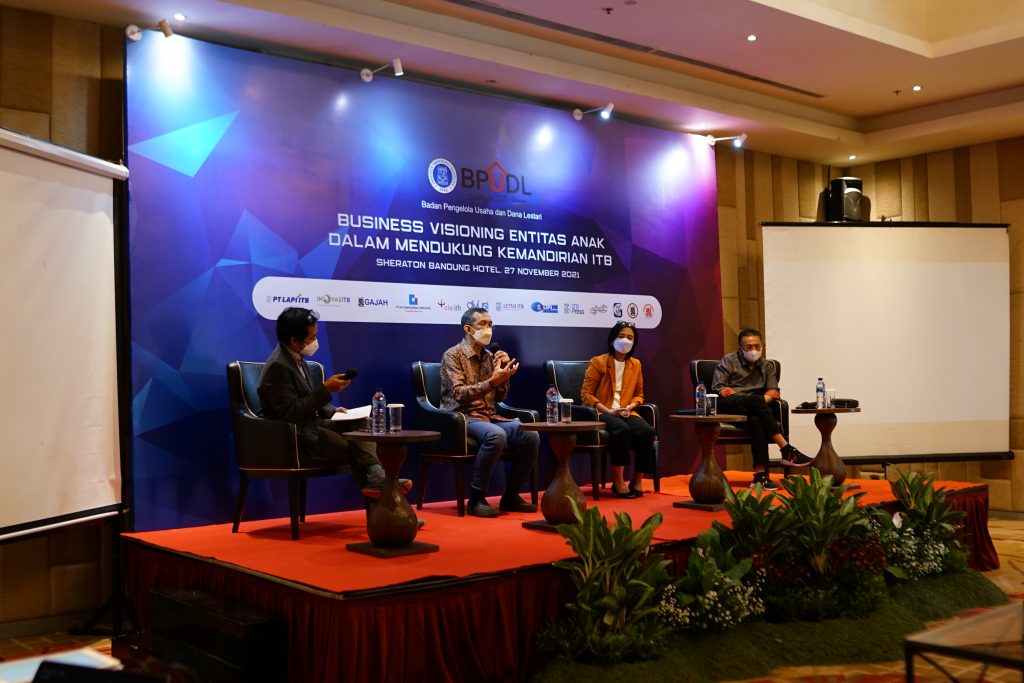 The event continued with a discussion led by Muhammad Hariyadi Setiawan, the Director of PT LAPI ITB, on the topic of "Building a Business Ecosystem in Higher Education". As one of the speakers, the Rector of ITB stated that we need support in order to provide educational services at ITB, one of which is to run a dignified business and according to ITB's competencies. "That's the one of the goal from ITB Enterprise", she added . Additionally, Rinaldi Firmansyah (President Commissioner of PT Pertamina Hulu Energi) and Ery Yunasri (BPUDL Business Law Consultant) also spoke during the first session, both expressing their appreciation for BPUDL' support of ITB through its business activities.

In the second session titled "Road Map of ITB Commercial Business Units" the director of BPUDL said that while ITB continues to be the leader in managing endowment funds and assets in comparison to other Legal Entity State Universities (PTNBH) in Indonesia, the issue of majority ownership management remains a significant performance bottleneck in running business. Ventures with minority subsidiaries are still difficult to compete in ITB, internally. The two advisory boards of BPUDL, Rinaldi Firmansyah and Bernardus Djonoputro, as well as Gilarsi Setijono, commissioner of PT RII also responded to the director's presentation during this session. They all believe that BPUDL initiatives should be supported in order to create a clear vision and direction for business units. BPUDL should also maintain good communication with its stakeholders. "This a breakthrough, as BPUDL facilitate all stakeholders in developing their strategy and aligning their steps toward the same direction of becoming ITB Enterprise" Gilarsi added.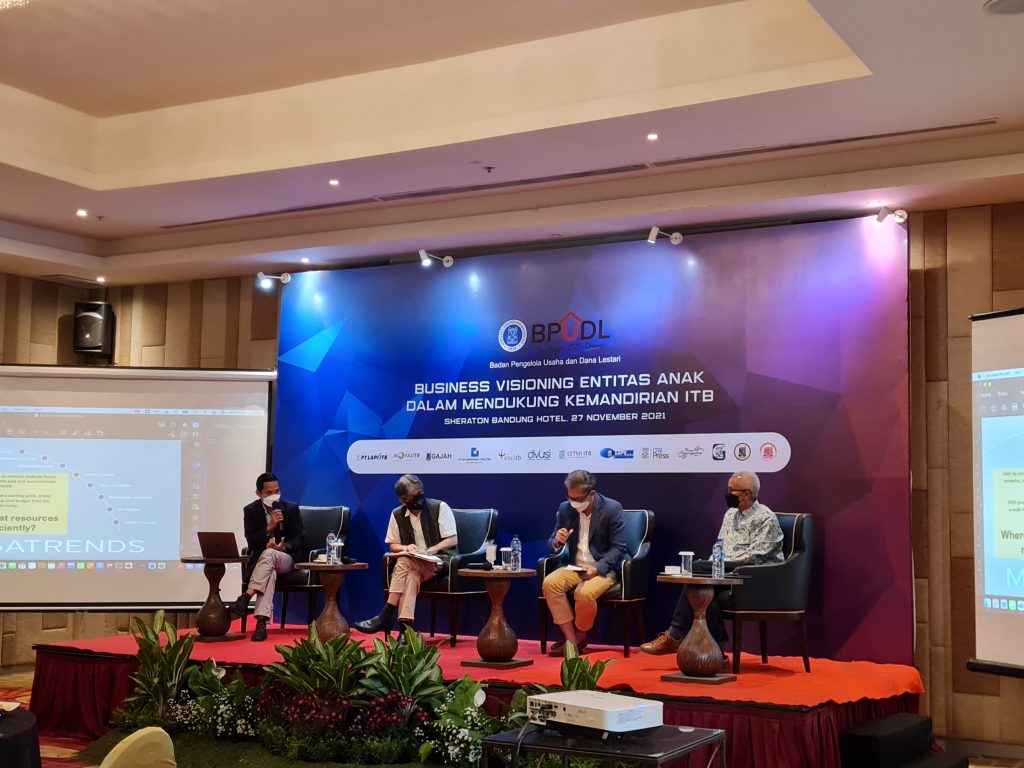 The topic "Post-pandemic Covid-19 Business Transformation," was led by Ahmad Faizal, Secretary of BPUDL, and it was the last session that featured Gilarsi Wahyu Setijono, Bernardus Djonoputro (Executive Director of PT Ernst & Young) and Yusmar Anggadinata (Director of PT LAPI). According to Bernardus, the mindset and future re-planning will determine which companies will survive from the pressure of the pandemic and which one will stop. A company's future scenario most likely will be guided by the the future megatrend.
This event marked BPUDL's commitment to providing the best service possible to ITB as well as contributing to ITB's business development.