BPUDL, with the support of Salam Ganesha hosted an appreciation ceremony for endowment fund donors of the tile naming program in the Rotunda area of Ganesha Campus, ITB  (11/03/2023). This program is an initiative of the ITB Board of Trustees and supported by Salam Ganesha. Since 2020, ITB has displayed the names of 89 philanthropist whose donations amount IDR9 billion. As a token of appreciation, ITB welcomes these donors to see their names that have been placed on beautiful stairs, after lengthy delays due to the Covid 19 pandemic as well as campus renovation.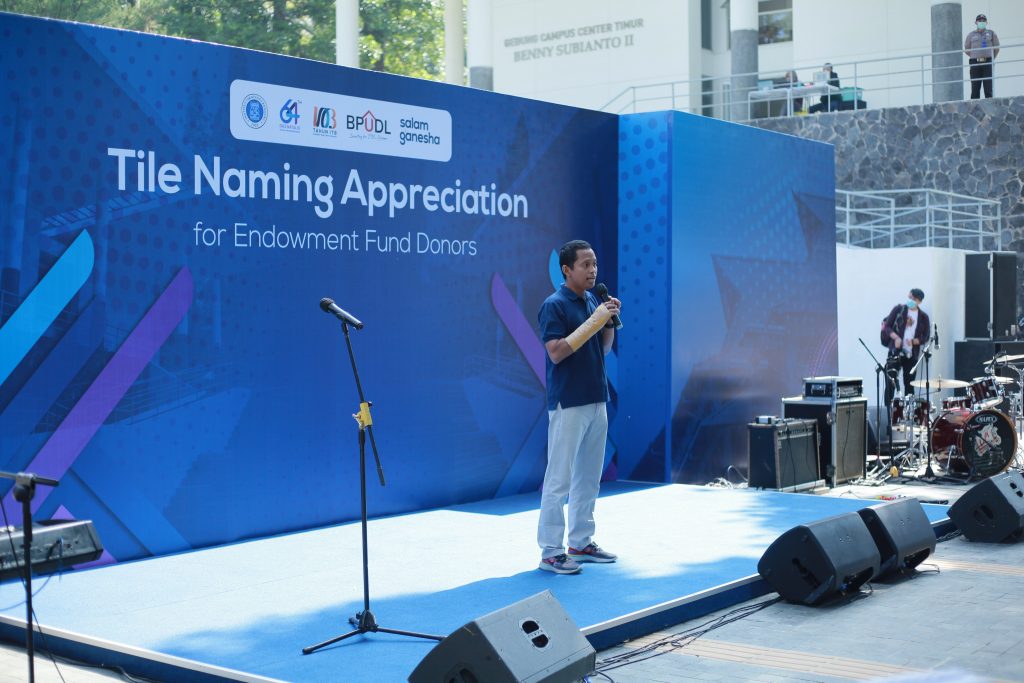 Ahmad Faizal, Secretary of BPUDL, welcomed the philanthropist and thanked them for their contribution to ITB's endowment fund. He said "The management of endowment funds is perpetual and their value never decreases, a portion of its yield will also be used to top up the current size of ITB endowment fund, thus allowing this fund to grow". He added that every year the outcomes of endowment fund management are channeled toward ITB development, including student scholarship. Therefore, all donation will become a charity for donors, as each donation, regardless of size, has a significant social impact.
In his remarks, Deputy of the ITB's Board of Trustees, Prof. Djoko Santoso emphasized that ITB's endowment fund is not yet comparable with other prominent universities in the world with large philanthropic groups. Therefore, he invited all stakeholders to contribute for ITB. Moreover, he highlighted that the current size of endowment funds managed by each university will be used as a parameter for government aids.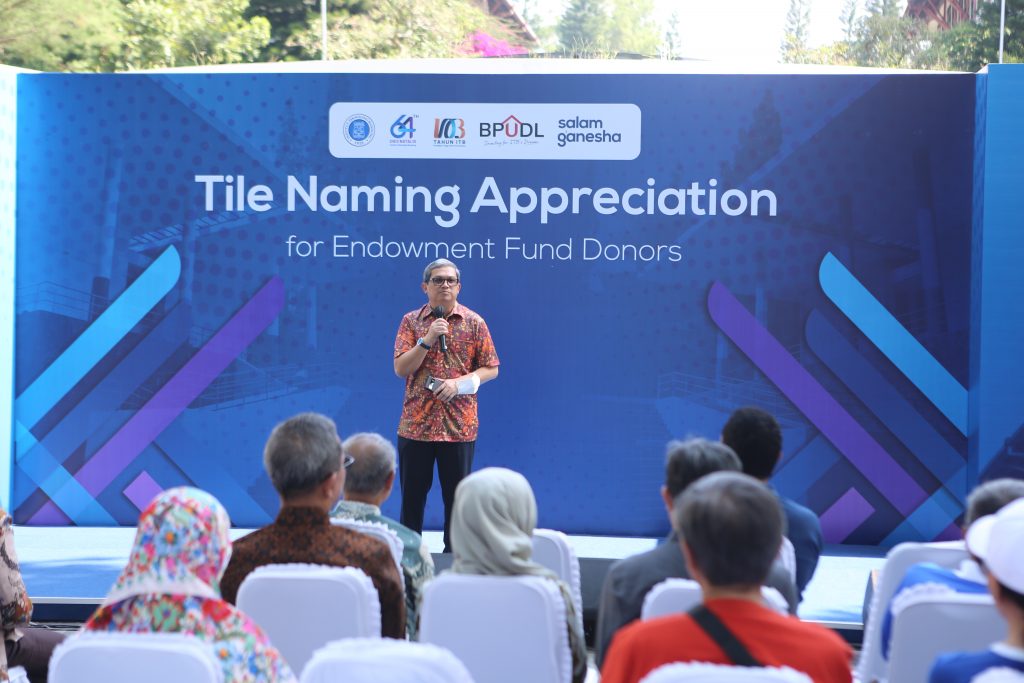 Vice Rector for Finance, Planning, and Development, on behalf of ITB Rector stated "Every year, ITB budgets IDR2 trillion, with 24% coming from the government, 30% from tuition fees, 24% through cooperation and the remaining 18-20% from ITB's management including this endowment fund." ITB's endowment fund is still growing, he said, it should encourage all of us to increase its size as universities is given the autonomy to seek and manage their own funding.
On the same occasion, 3 philanthropist were asked to give remarks, including Eddy Junaedy Danu (Electrical Engineering ITB'70), I Nyoman Nuarta (Art and Design ITB'72), and Wiza Hidayat (Industrial Engineering ITB'01). Eddy said that we must share information about the tile name program among alumni. In addition, he hopes that BPUDL can maintain the trust of all donors by updating its activity with regular reports. As a young alumni, Wiza said "I always carry the spirit of the ITB campus with me as ITB alumni are recognized for their career success. Therefore, we are here to give back to support our almamater"
The event was wrapped with a group photo and resounding "Salam Ganesha", while  Imelda Rosalin (AR'89) & Friends performed on stage. In the future, we expect more alumni will contribute to the ITB's endowment Fund to fulfill its dreams becoming a world class university.