During Inspirasi Berbagi: Pay it forward event, BPUDL also held discussion to design new strategies to manage investment on busines and endowment fund. 
Darwin Djajawinata – CFO of PT Sarana Multi Infrastruktur shared his though on impact investing, refers to investments made into companies, organizations, and funds with the intention to generate a measurable, beneficial social, or environmental impact alongside a financial return.  These kind of investments provide capital to address social and/or environmental issues. Giving an example from PT SMI, Darwin explain the framework impact investing developed by PT SMI including "executing model" by investing the donor fund together with executing agency; "leverage model' by employing the combination between donor fund and grant fund; and "blended model" which blend donor fund with loan facility.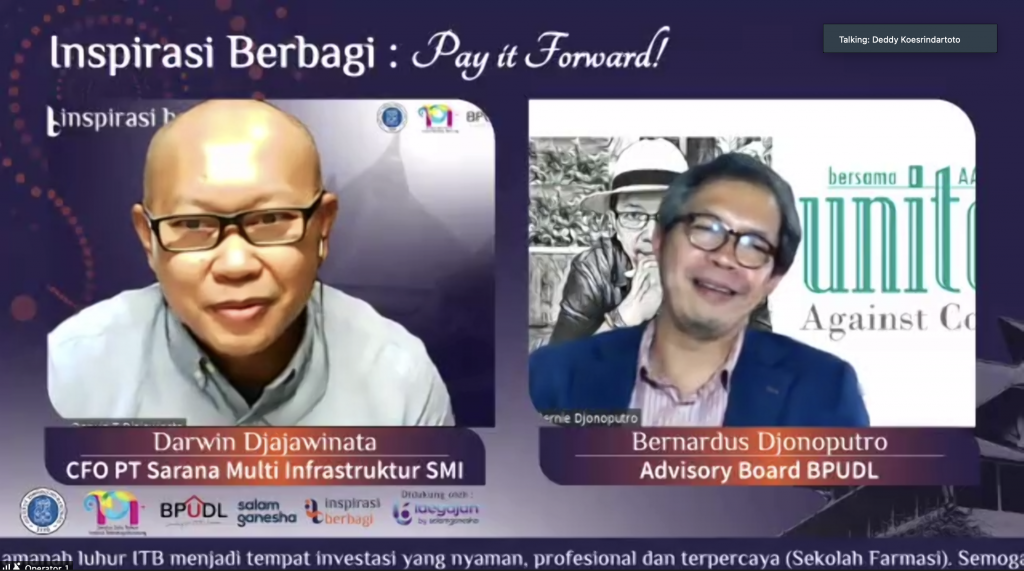 He also expressed that impact measurement and reporting aspects are very important in managing funds, thus supporting sustainability program, triggering a greater impact, while gaining trust. This idea was positively responded by Bernardus Djonoputro – BPUDL Advisory Board and added that we also have to take into account the pressure on the expected return on impact investment an managing the risks on this activity.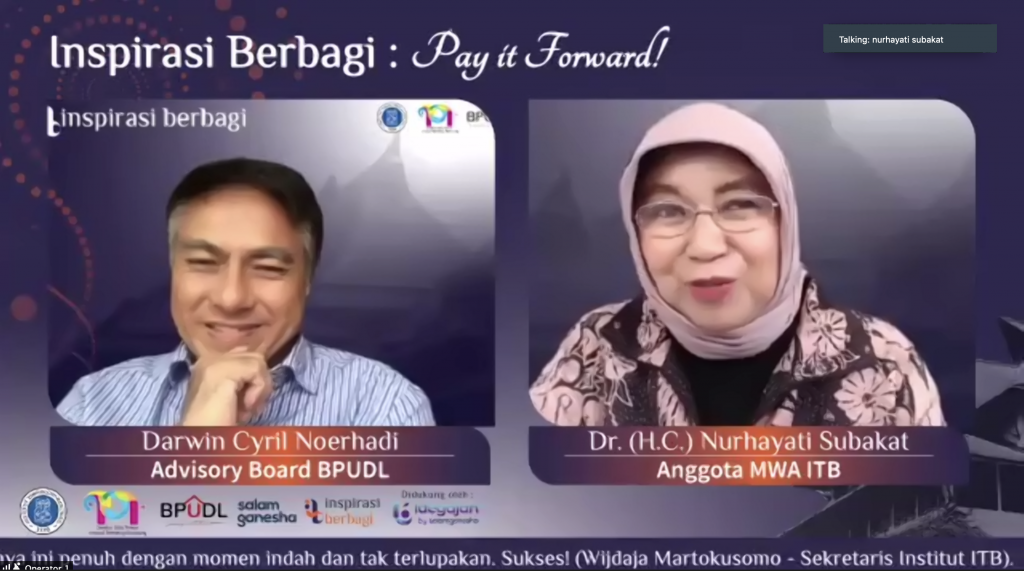 The subsequent speaker Darwin Cyril Noerhadi, also member of BPUDL's Advisory Board  presented the concept of Venture Capital (VC) as an alternative investment in managing ITB's endowment fund to create revenue. Though, this can only be achieved by involving a great understanding among Promotor who bring the idea(s); Investor(s)/limited partners who finance the idea for commercialize and grow the business; VC fund, a legal platform to pool the fund for raise and invest in the Promotor; and Manager, a partner which oversees and actively monitor the business plan and performance. BPUDL itself should take a position as VC Manager while maintain  the collaboration with LPIK ITB as start-up incubators.
Nurhayati Subakat – member of ITB Board of Trustee, also owner of PT Paragon Innovation responded by highlighting that start up business, despite their higher return, they also come with higher risk to succeed. Therefore, BPUDL with the help of advisory board should prepare a well-design plan on venture capital, by analyzing the market demand and adjusting this demand into research output in products or service which can attract investors and/or funds.
Director of BPUDL thanked all the speakers and hope that this discussion will bring clear idea for BPUDL to generate other income through investment on venture capital, of course by considering all the risks, at the same time to stimulate all faculty members to drive their research into commercialization, so that it can bring more benefit to the society.